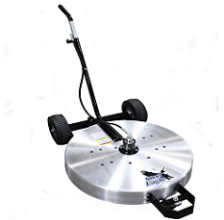 Click to enlarge image(s)
U-HANDLE Surface Spinner Specifications:
Model 30"
Maximum Pressure 4000 PSI
Maximum Flow 10 GPM
Min. Recommended Pressure 1500 PSI
Min. Recommended Flow4 GPM
Maximum Temperature 250° F
RPM 2000
Cleaning Path 30"
Approximate Shipping Weight 55 lbs.
NO Trigger Gun Included

Maximize Your Pressure Washer's Effectiveness!
The Steel Eagle Surface Spinner uses force generated by your pressure washer to spin 2 spray nozzles at high speeds, which maximizes cleaning on flat surfaces. It produces consistent quality and cuts cleaning time by as much as 66%. It also decreases operator fatigue, so it virtually pays for itself in no time at all!

Large inset wheels allows easy maneuverability along edges and curbs, while keeping cleaner on the level surfaces. The front-mounted swivel caster has a Delrin bushing for easy handling and turning.

The swivel is Deublin Union; and durable, Stainless Steel construction means long life.