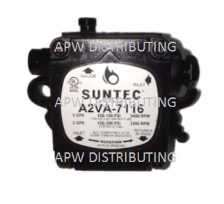 Click to enlarge image(s)
SUNTEC Fuel Pump A2VA-7116
Suntec Single-Stage, One-Step Pump
The A2VA-7116 model has a unique circuit with a dependable cut-off function. It contains a positive displacement involute gear set and two controlling valves. This Suntec oil pump has a maximum motor speed of 3450 RPM and a maximum strainer capacity of 3 GPH.
Single stage
Motor speed: 3450 RPM
Strainer capacity: 3 GPH
Clockwise shaft rotation
Right hand nozzle
Identification # 7116
UL approved
Made in the USA
Suntec # A2YA-7916
Also known as 1437 and 8.700-749.0
Weight: 2 lbs.
Applications:
Fuel oil #2 and lighter
Not compatible for use with blends higher than 5% biodiesel
One pipe system