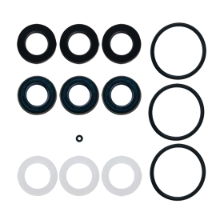 Click to enlarge image(s)
GENERAC A0000052347



Product Details

12mm WATER SEAL KIT

This kit includes:
Low Pressure Seals - Qty. 3
High Pressure Seals - Qty. 3
O-Rings - Qty. 3
Spacers - Qty. 3 (located in brass retainers)
O-Ring - Qty. 1
This Seal Kit fits the 12mm diameter pistons only. Please use an open end wrench to measure your pistons to ensure a proper fit. See part 1001.3298 for 13mm diameter pistons.