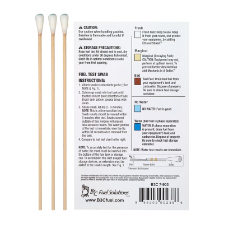 Click to enlarge image(s)
Also known as 1002.0214

Test for bad fuel (fuel oxidation)
Test for water contamination
Test for rust and scale
Test for sludge and asphaltenes
Diesel Mechanic In A Bottle 4-In-1 Test Swabs are a diagnostic tool to test diesel fuel to determine if it is fresh, marginal, or bad. The test swabs test for bad fuel (oxidation), water contamination, rust / scale, and sludge / asphaltenes.
Benefits
Determines fuel quality to easily identify the sources of potential problems before damage occurs.

4-in-1 Diesel Fuel Contamination Test Swabs test for: bad fuel (fuel oxidation), water contamination, rust and scale, sludge and asphaltenes.





Usage Instructions
Attach swab to extendable probe.
Submerge swab into fuel tank until touches lowest point at bottom of tank. Brush tank bottom several times with swab.

Remove swab; let dry from 2-3 minutes (do not exceed 3 minutes).

Compare to diesel fuel & tank test charts.

Store sealed test kit in a cool, dry place out of direct sunlight. Shelf life is one year from first opening.