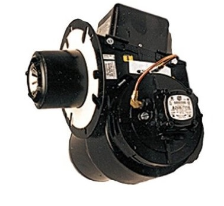 Click to enlarge image(s)
This 230V EHASR Series of Burner Assemblies features Flamelock which assures a positive flame stability, resulting in a clean, uniform high temperature flame. It also boasts:
239-105 EHASR
High static pressure for better air/oil mixture
Clean, smooth ignition and sharp, positive no-drip shutoff prevents carbon soot from forming
Nozzle operating temperatures remain low
Economy results from high CO2 readings, providing a high combustion efficiency that saves fuel
Specifications:
Fan: 6-1/4"
Capacity: 0.75 GPH thru 3.00 GPH, No. 1 or No.2 fuel oil
Fuel Pump: Standard 3450 RPM fuel pump - easy to service. One or two stage
Controls: Control and cadium cell are optional
Ignition: 10,000 V. constant duty transformer. TV-Radio interference proof. Positive make or break contact with electrodes. Swing-away design swings open for easy access to gun assembly
Motor: 3450 RPM
Firing Cap: 0.75 to 3.00 BPH
Air Adjustment: Patented dual adjusting air bands interlock for positive air adjustment
Flame Retention Head: High temperature stainless steel for longer life
Approximate Weight: 38 lbs.