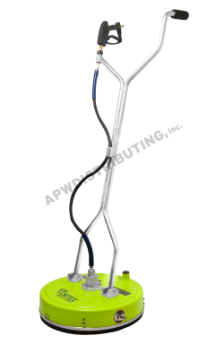 Click to enlarge image(s)
VORTEX 20" Surface Cleaner
GENERAL PUMP TRIGGER GUN
NYLON BRUSH SKIRT
HEAVY-DUTY POLYPROPYLENE COVER
4,000 PSI ROTARY HEAD Contractor grade for optimal performance.
Aluminum TWO ARM ROTARY BAR
Comes equipped with (2) #2.5 @ 25° meg nozzles.
Aluminum Handle
OPTIONAL WHEEL KIT (NOT INCLUDED) Convert your surface cleaner from hovering to wheeled with our 4-Wheel Castor Kit.
Some Assembly May Be Required
---
What we like about this Surface Cleaner
The 20" Vortex™ Surface Cleaner is part of our professional line of cleaning equipment. The Vortex™ Surface Cleaner will cut your surface cleaning time by 60%. If you are cleaning a driveway, sidewalk, patio, pool deck, walkway, or small parking area, this is the pressure washer accessory you need. You will quickly, easily and evenly get a superior clean over using a wand and tip. Save your neck and back while using our surface cleaner designed with ease of use in mind. The nylon brush skirt minimizes overspray and helps direct the water through built-in channels. The heavy-duty polypropylene cover is lightweight yet so durable a person can stand on it (although we don't recommend this). The Vortex Surface Cleaner somes equipped with a Aluminum handle. This professional grade Vortex™ surface cleaner is equipped with a professional grade, 4000 PSI rotary head swivel.
THE VORTEX SURFACE CLEANER IS COMPARABLE TO THE FOLLOWING SURFACE CLEANERS: BE 20" WHIRL-A-WAY, BE 18" WHIRL-A-WAY, GENERAL PUMP 20" HAMMERHEAD, GENERAL PUMP 18" HAMMERHEAD, EAGLE WASH 16" SURFACE CLEANER, EAGLE WASH 19" SURFACE CLEANER, WHISPER WASH 19" SURFACE CLEANER.