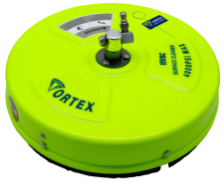 Click to enlarge image(s)




NEWLY DESIGNED 15" SURFACE CLEANER
by VORTEX

The 15VSC Vortex Surface Cleaner is superior in quality and durability compared to most quick disconnect style surface cleaners available today. This time saving tool is great for driveways, sidewalks, patios, pool decks, walkways, and much more! Paired with the proper pressure washer, this Vortex Surface Cleaner can cut your surface cleaning time by up to 60%.
This Vortex Surface Cleaner comes equipped with an aluminum & stainless-steel 3,700PSI swivel, a heavy-duty aluminum spray bar, and a heavy-duty polypropylene cover for maximum durability. The nylon brush skirt minimizes overspray and helps direct water through its built-in channels. The quick disconnect nipple allows for easy connection between your standard nozzles and the Vortex Surface Cleaner. With these features, you will ontain a quick, easy, and consistent clean compared to a standard wand and tip.

Depending on your original pressure washer accessories, you may want to ensure you have the proper type and length of wand. Check out our available wand replacement and extension kits to make sure you have the best fit for you!
FEATURES:
ALUMINUM & STAINLESS STEEL SWIVEL

STAINLESS STEEL QUICK CONNECT NIPPLE

INTERNAL FILTER

HEAVY-DUTY POLYPROPYLENE COVER

ALUMINUM TWO-ARM SPRAY BAR

INCLUDES (2) 25 DEGREE, 2.5 ORIFICE, SPRAY BAR NOZZLES (INSTALLED)

INCLUDES (2) 25 DEGREE, 2.0 ORIFICE, SPRAY BAR NOZZLES (FOR 2-3GPM MACHINES)

INCLUDES VORTEX NOZZLE CLEANING TOOL
SPECIFICATIONS:
3,700PSI MAX PRESSURE

2.3-5GPM MAX FLOW

180

°F

MAX TEMPERATURE
---