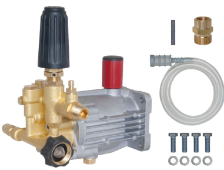 Click to enlarge image(s)
CDX2532




Part#

1001.9547


Specifications:
Replaces pumps

190765, 190765GS,B4925BGS, B4925EGS, 194106GS, B3358D


* 3,200 PSI Max
* 2.5 GPM
* 3/4" Hollow Shaft Drive
* 3/8" MPT Outlet

- optional 3/8" Quick Connection Hose Fitting -

See Link Below - 3/8" QC Fitting
* Built-in Unloader
* Built-in Chemical Injector
* Thermal Valve included!!
* Built-in Garden Hose Adapter
* Stainless Steel Check Valves
* Forged Brass Manifold
* 22mm Outlet Adapter Included


* Oil Drain Plug






You can perform oil maintenance on the upgrade pump and make it last even longer!




Change oil after every 25-50 hours of use, use 80-90 gear lube, approximately 4.0 oz or half way point of the sight glass)



MOST PUMPS FAIL FROM OVERHEATING, so we include a Thermal Valve with the pump to help prevent this!
Please consider adding Pump Oil & Pump Saver Fluid to your purchase.



Consider adding the Quick Connect Kit below. It changes a standard Garden Hose and Pressure Hose into quick connection ends!




ALTERNATE PUMP & ACCESSORIES