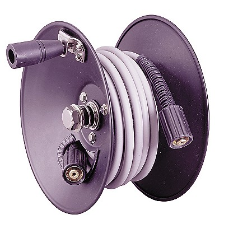 Click to enlarge image(s)
Perfect for Home Owner Pressure Washers.
Every Pressure Washer Needs a Hose Reel But very few come with one.
Here's your opportunity to ADD one at a very low Price

Storage HOSE REEL "Black"
Easy to Install & Remove
Will fit almost any Washer
Fits Round or Square Tubing
Fits 3/4" or 1" frames
Holds 25' Pressure Hose
Can also be used for Air Compressor or Extension cords.
Outside Diameter 9"
Width 51/2"
HOSE NOT INCLUDED !!