Coleman 300101, 39-8586 Electric Pressure Washer Parts & acc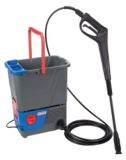 NOTE: We are not Coleman or affiliated with them. We did not sell these Pressure Washers but do offer some parts for them, as shown below.
We are trying to make available more parts for this model, Call me if you need something you dont see.
1-888-279-9274 x 111 Alan
Coleman 300101 Owners Manual