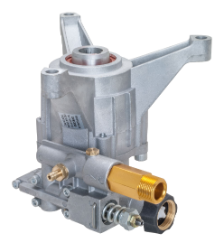 Click to enlarge image(s)



Every Pump is Bench tested to Max PSI for 10 minutes at the factory Before its shipped.



3 Pump Pack

The inlet and outlet tubes face towards the handle of the frame.

Specifications:

- 2600 PSI Max
- 2.5 GPM
- 3400 RPM
- Aluminum Head
- Thermal Relief Valve included !!
- Replacement/Repair parts available
- Comes ready to go with oil

Spacers (1/2") may be required for installation depending on motor configuration. Spacers are used in the case that the pump arm(s) hits the engine. Also, this pump may require longer mounting bolts due to it's thicker flange (for added strength.) In this case, these longer mounting bolts are available at your local hardware store.
Pump rated for 300 Hours of use.
MOST PUMPS FAIL FROM OVERHEATING, so we include a Thermal Relief Valve with the pump to help prevent this!

Commercial use of this pump will void your warranty.
Please be sure to review our Return Policy page.