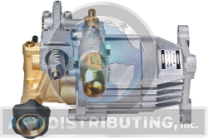 Click to enlarge image(s)
Scratch & Dent Pumps will have some cosmetic issues and likly a broken mounting tab.
Still functional with no loss a performance.

PW2824 - Pump with 1 Year Limited Warranty
Every Pump is Bench tested to Max PSI for 10 minutes at the factory Before its shipped.
Alternate Part# 1001.4152
Specifications:
- 3000 PSI Max
- 2.4 GPM
- 3400 RPM
- 3/4" shaft size
- Thermal Relief Valve included!!
- Chemical Injector included
- Comes ready to go with oil
- Garden Hose Inlet
MOST PUMPS FAIL FROM OVERHEATING, so we include a Thermal Relief Valve with the pump to help prevent this!
PLEASE ALSO SEE RETURN POLICY PAGE
* Pump with 5 Year Limited Warranty (NON COMMERCIAL USE ONLY)