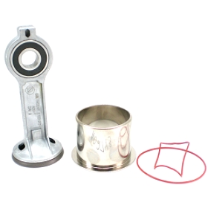 Click to enlarge image(s)
DEVILBISS PISTON KIT KK-5081
New Part# A02743
For use with Twin Cylinder Air Compressors

NOTE: TWO KITS ARE NEEDED TO REPAIR BOTH CYLINDERS

Kit includes:

(1) Piston with Bearing
(1) Cylinder Wall
(1) Compression Ring & Seals

Piston Diameter: 2 3/8"
Length: 5 3/4"

Frequently Asked Question: My air compressor is not building up enough pressure. Is this the correct part to replace?

Answer: One common problem that may develop is that the seal around the piston and the cylinder wall wears out over time. When this happens, the pressure output of your air compressor will decrease. For example, it will only build up about 60-80 PSI instead of 120 PSI. In most cases, replacing the piston kit will solve this issue.

Frequently Asked Question: One or both of my piston rods are broken. What will I need to replace them?

Answer: A break in the piston can be caused by several factors. Pistons can weaken over time, but we find that in most cases the break is due to the counter balances being off balance. If the counter balances are off balance they will rub against the piston rod. You can look at the counter balances and see if there is any scoring (even very slight) on the counter balance. If there is scoring, we suggest replacing both counter balances, spacers, fan (if it broke from the piston rod), and any other parts that look worn. It is a good idea to replace these parts even if the wear looks minimal. It doesn't take much stress to break the rods and if the counter balance is causing it, not replacing the counter balance will cause the piston rods to continue to break.

Devilbiss makes compressors and parts for Craftsman, Sears, Porter Cable, Husky, Pro-Air and several others.