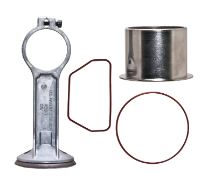 Click to enlarge image(s)
Also known as 1001.0655
Kit Includes:
(1) Connecting Rod with Compression Ring
(1) Cylinder Sleeve
Measurements:
Diameter = 2 3/8"
Length = 5 3/4"
Frequently Asked Question: My air compressor is not building up enough pressure. Is this the correct part to replace?
Answer: One common problem that may develop is that the seal around the piston and the cylinder wall wears out over time. When this happens, the pressure output of your air compressor will decrease. For example, it will only build up about 60-80 PSI instead of 120 PSI. In most cases, replacing the piston kit will solve this issue.


Devilbiss makes compressors and various parts for Craftsman, Sears, Porter Cable, Husky, Pro-Air and several others.