ATTENTION: Proceed to Check-Out for Updated Online Pricing for this Part!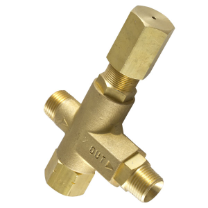 Click to enlarge image(s)
Cat Pressure Washer Pump Unloader 100-2000 PSI 0.5-6 GPM

CAT Pump 7500S Unloader (All 2SF Models)

This Pressure Regulating Unloader is designed for single gun or pump operation. This unloader maintains set system pressure and goes into by-pass with the release of the trigger or an obstruction downstream. The pressure sensitive feature permits a wide range of flows and quickly resumes full pressure when the gun is opened or the obstruction cleared. It is recommended for intermittent cleaning applications. It is NOT recommended for weep systems. 5-10% by-pass is necessary for optimum performance.
Features


Max Flow: 3.5 gpm
Min Pressure: 100 psi
Max Pressure: 2000 psi
Inlet Port Size: 0.37
Discharge Port Size: 0.37
Type of Accessory: Unloader
Material: Brass (BB)