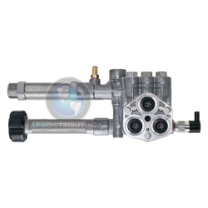 Click to enlarge image(s)
Replacement Pump Head, Sold as shown!
Fits:
RMV2.5G24

RMW2G24

RMW2.2G24

RMW2.2G24-EZ

RMW2.2G24-EZ-SX

SRMW2.2G26

This is the head from the SRMW2.2G26, which is rated at 2.3@ 2,700. It fits all the pumps listed above.

The new design allows for more PSI and higher GPM, which also solves the pressure problem of the earlier model

also known as

2849008, 2840020, 2840021, 2840860, 2840660,

ar

2849008
Includes:
Seals

Valves

Chemical Injector

E-Z Start Valve

Thermal Valve

Inlet and Outlet tubes.
Just replace the head and swap over the unloader and you are ready to wash!

NOTE: This does not include the (3) required bushings - see part#AR2840561 or reuse the bushings from the original RMW pump