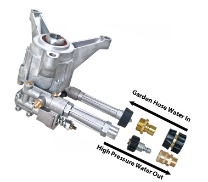 Click to enlarge image(s)
PWVR282.5 Also Known as 1001.6386, 308653035
Pump with 5 Year Limited Warranty
Every Pump is Bench tested to Max PSI for 10 minutes at the factory Before its shipped.
Includes Garden Hose & High Pressure Quick Connect kits!
* Inlet & Outlet Face toward Handle

- 3,000 PSI Max
- 2.5 GPM
- 3400 RPM
- Brass Head
- Thermal Valve included!!
- Key included
- Pre-Filled w /Oil
NOTE: Spacers (1/2") may be required for installation depending on motor configuration. Spacers are used in the case that the pump arm(s) hits the engine or cant reach the under side of frame such as the engine has a longer shaft. Also, this pump may require longer mounting bolts due to it's thicker flange (for added strength.) In this case, these longer mounting bolts are available at your local hardware store.
Pump rated for 500 Hours of use.
MOST PUMPS FAIL FROM OVERHEATING, so we include a Thermal Relief Valve with the pump to help prevent this!
Pump with 5 Year Limited Warranty (Non-Commercial use only)
PLEASE SEE RETURN POLICY PAGE

Optional Pumps Shown Below